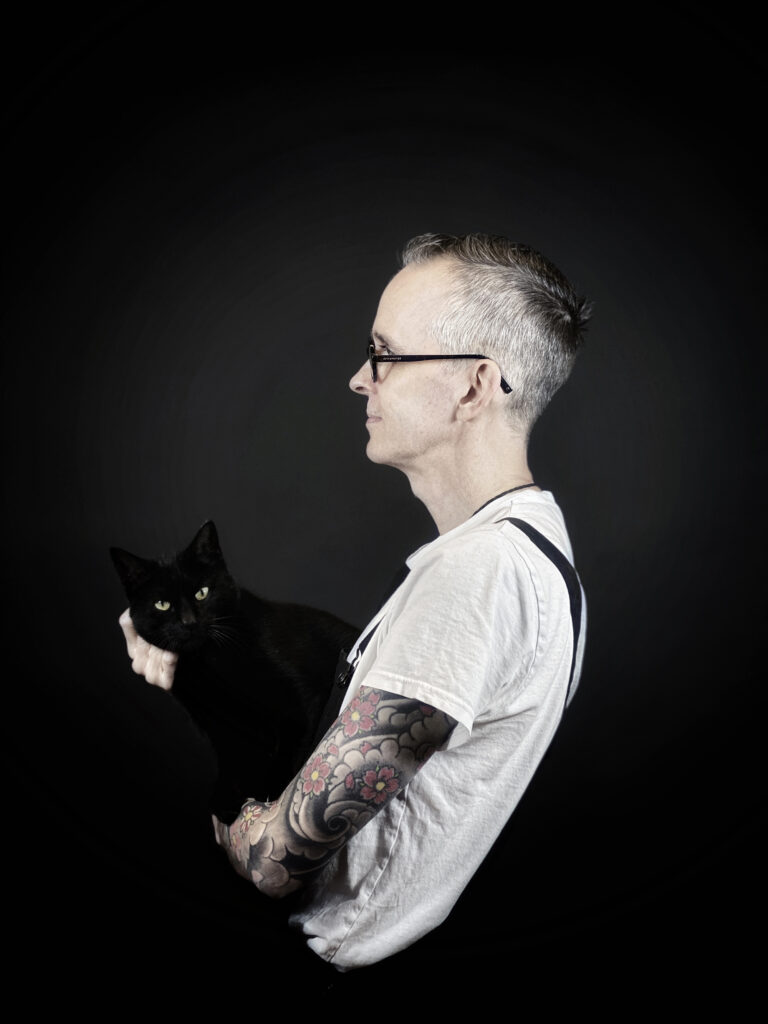 There is magic at play when you realise that mixing the colours yellow and blue, it becomes green or when standing in the darkroom watching an image appearing in the developer fluid. The same magic you find when drifting through a urban landscape or a deep forest, with your mind "having a playful-constructive behaviours and awareness and understanding of the exact laws and specific effects" that the geographic environment has consciously organised or not. Or taking two words and placing them after each other and by that creating a new sentence, a new meaning that you hadn't seen or realised before. Experiments and artistic methods on different levels and from different perspectives. Artists question reality and emotions are at play in different forms. Satisfaction, pleasure or happiness when you get the right nuance of green or anger and irritation when you realised that you have overexposed your film or encountered an injustice. Emotions are the foundation of the artistic process. Emotions are a transformation of the world and they are deeply connected to our own intellectual capacities for making sense of the world. But art is not illustrations of emotions. It is not either illustrations of theories or science, as art has the capacity to be knowledge by it self. Art has a possibility to be a visual rhizomic thinking. Knowledge, both in process, methodology and result. There is magic at play and it is more then just an aesthetic experience.
I do not call myself a performance artist, but over the time I have begun to look at what I do as a performances and what the viewer sees and meet are the documentation of these performances. What you see as a viewer are the leftovers and the remnants of encounters, physical experiences and processes. I document these events through photography, text and video. My artistic works are based on experiences that in different ways are close to me as a person. I depict and interpret these experiences. I react to and often in affect to what you may meet or be exposed to as a human. They are reactions both physically, intellectually and emotionally. They are often metaphors, paraphrases and descriptions that can be interpreted and understood on more than one level. I work with fundamental questions and emotions like freedom, hope, justice, pain, anger and abandonment. I try to understand the world, it is simply about being human, the frustration of being human and since it is indirectly about human relations, it is inevitable that my artistic practice deals with issues of hierarchies, power and identity and with that it is almost impossible not to see them as political. The personal is political.
And then the words and languages that are always present in my artistic work. Language, words, text and the hierarchies between the image and the word. To understand and not understand, function, meaning, insecurity and the question of dependence and independence between letters, words and sentences. The limitations and the possibility of language. It is all interconnected with conflict, relationships and trust. Knowledge, both in process, methodology and result. There is magic at play and it is more than just an aesthetic experience.
Micael Norberg is educated at at the Academy of Fine Arts in Trondheim, Norway, Koninklijke Academie van Beeldende Kunst in Den Haag, Holland and the Academy of Fine Arts in Umeå, Sweden in the early 90's and has exhibited his art through the years both on a national and international level. Micael Norberg has been teaching art at an academic level since 1996. He is an experienced teacher at both basic- and advanced level with a broad knowledge within the fields of contemporary art. Micael Norberg is based in Umeå in the North of Sweden.
Employments
2013 – Associate Professor, Academy of Fine Arts, Umeå University, Sweden
2018 – 2021, Deputy Head of Department, Academy of Fine Arts, Umeå University, Sweden
2018 – 2021, Director of Studies, Academy of Fine Arts, Umeå University, Sweden
2014 – 2015, Head of Department, Academy of Fine Arts, Umeå University, Sweden
2013, Director of Studies, Academy of Fine Arts, Umeå University, Sweden
2010, Guest Teacher, Time based media, College of Fine Arts Hué University, Vietnam
2007 – 2013, Artistic Project Manager, Time based media, Academy of Fine Arts, Umeå University
2004 – 2008, Guest Teacher, Time based media, Hanoi University of Fine Arts, Hanoi, Vietnam
1996 – 2006, Junior Lecturer, Academy of Fine Arts, Umeå University, Sweden
Other engagements
2019 – Humlab's Scientific Advisory Board, Umeå Universitet
2019 – Centro de Investigación en Artes / Center for Research in Arts at Campus Altea, Miguel Hernández University of Altea, Spain
Education
1994 – 1995 – Umeå Academy of Fine Arts, Sweden – Master of Fine Arts
1993 – 1994 – Academy of Fine Arts, Trondheim, Norway
1992 – 1993 – Koninklijke Academie van Beeldende Kunst in Den Haag, Holland
1990 – 1992 – Academy of Fine Arts, Trondheim, Norway
Research Grants
2021 – 2023, Swedish Arts Grants Committee – 2-year grant
2020 – 2021, Seed money, Research Grant, Faculty of Humanities, Umeå University
2019 – 2020, Internationalisation, Research Grant, Faculty of Humanities, Umeå University
2014 – 2015, Shutter Angle, 172.5° – Artistic Research funds, Academy of Fine Arts, Umeå University
2012 – 2013, A Permanent Mark on a Physical Body – Artistic Research funds, Academy of Fine Arts, Umeå University
2012 – 2013, Kite Aerial Photography – Hué – Artistic Research funds, Academy of Fine Arts, Umeå University
2011 – 2012, The Animation Manual – Artistic Research funds, Academy of Fine Arts, Umeå University
2009 – 2011, Swedish Arts Grants Committee – 2-year grant
2007, Film in Västerbotten – production grant "SUMI"
2001, County Council's of Västerbotten – Culture Grant
1996, Swedish Arts Grants Committee – 1-year grant
Publications
2022 "Coronakatalogen" , (eds. Statenskonstråd , Sweden)
2021 "On New Proposals from Art in Teaching and Research", SIPADI Altea (eds. Juan Franco. Martínez Gómez de Albacete, Universitas Miguel Hernández, Altea)
2018 "The Death Book" (eds. Micael Norberg, Carl-Erik Engqvist, Umeå Universitet)
2017 "Plan Z" (eds.José Vicente Martin Martinez, Universitas Miguel Hernández, Altea)
2017 "Artists Teaching Art, Teaching Art in the North" (eds. Jaana Erkkilää-Hill, University of Lapland)
2014 "A Permanent Mark on a Physical Body" (Emma Ewadotter, Micael Norberg, Umeå University)
2014 "Kite Aerial Photography – Hué" (Micael Norberg, Mattias Ericsson, Umeå University)
2012 "The Animation Manual" (Micael Norberg, Mattias Ericsson, Umeå University)
2012 "Me Buddha and Myself" (Micael Norberg)
Exhibitions and screenings
2022 "Notes from Benidorm" – Konsthall323, Stockholm, Sweden
2021 "Region Västerbotten – 2020″, Galleri Alva, Umeå, Sweden
2020 "I will not tell you it will be okay" – Galleri Verkligheten, Umeå, Sweden
2020 "Making is thinking but thinking is making as well", – SIPADI Altea, Spain
2019 "And kept as a reminder" – FILMFORM RE:VIEW , Stockholm, Sweden
2019 "Magritte, Foucault and I or the house of Magrittes", (Micael Norberg and Katja Aglert), – Flexhallen, Umeå University, Sweden
2017 "Comment penser librement à l'ombre d'une chapelle?" – Galleria Valo, Arktikum, Rovaniemi, Finland
2017 "In societies dominated by modern conditions of production, life is presented as an immense accumulation of spectacles. Everything that was directly lived has receded into a representation." – PLAN Z, El Espacio, Palau Altea, Spain
2016 "Happiness without freedom, or freedom without happiness" – Humlab-X, Umeå University, Sweden
2014 "1 / 25th of a second, when everything changes." – Gallery Alva, Umeå, Sweden
2012 "Klockan tre är allting för sent " – Folkets Bio/ Galleri Maskinen, Umeå, Sweden
"Jag, Buddha och mig själv" – Vita Kuben, Norrlands Operan, Umeå, Sweden
2011 "Om lycka" Original, Umeå, Sweden
2010 "MOR" Galleri Verkligheten, Umeå, Sweden
"Om sanning och lögn", Original, Umeå, Sweden
2009 "SUMI", Glimtz (online streaming), Sweden
"Schweden für Jeden", Arsenal, Berlin, Germany
2008 "SLIDES", Vita Kuben, Norrlandoperan, Umeå, Sweden (Lars Tunbjörk och Mats Gustavsson)
"Galleri Alva Moviebox", Norrlands Universitetssjukhus, Umeå, Sweden
2005 "VAR DAG FILM", Bio Abelli, Umeå, Sweden
"BORDERS" Barents Art Triennal, Umeå&Dundee, Sweden/UK
"Volksbune am Rosa-Luxemburg-Platz" (Viet Nam kongress 2005) Berlin, Germany
2004 "BLICK 2004", Moderna Museet, Stockholm, Sweden
"BLICK 2004", Kunstverein München, München, Germany
"And kept as a reminder" , Hokkaido Museum of Modern Art, Hokkaido, Japan
Contact: Micael.Norberg [at] icloud.com